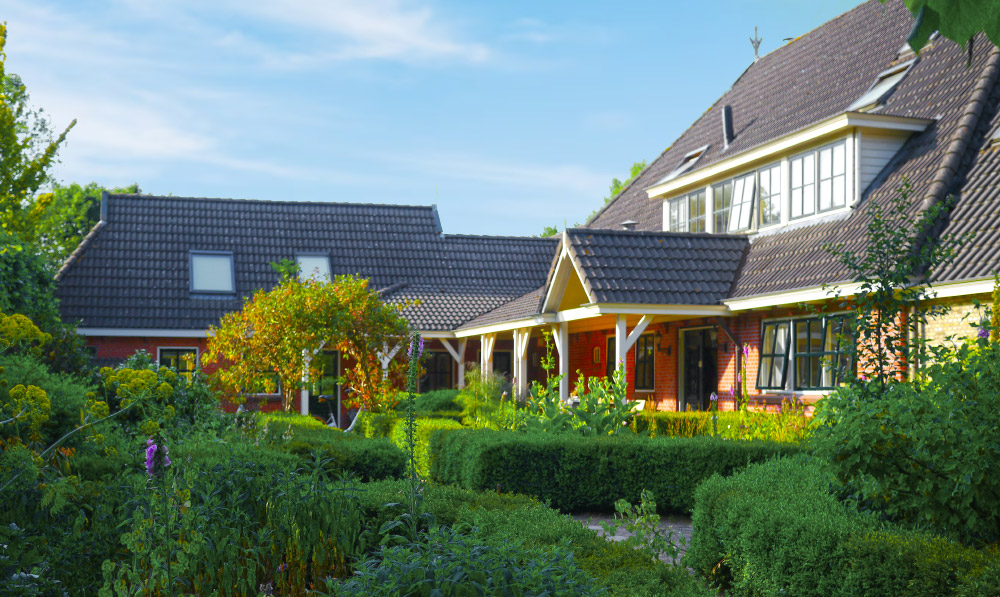 For us, it's always a miracle. And in June 2023, it was even more special as we were visiting this residence for the first time, near Heerenveen.
Organizing a psychedelic retreat has been the dream of Tangerine Retreat's founder, Arnaud. Each retreat is an opportunity to meet new people, deepen our methods, and find the best ways to help. This time, we had participants from France, the USA, Belgium, and Portugal. Each arrived with their own journey, expectations, pains, fears, and hopes… and the desire for us to be able to accommodate all of that. A true challenge for our small team. To meet this challenge, we had 3 facilitators, 1 apprentice, the communications manager (who is writing these lines!), and his assistant.
The first day, a first contact
It starts with a good sign! Everyone arrives without any particular issues. At first, we all try to find our place. Upon arrival, we give everyone some time alone to get to know the place and settle into their rooms. It's springtime, and with the pool, the good weather, and the green surroundings of the cottage, it's safe to say that this part isn't the most complicated!
Getting to know each other
It's only an hour later that the participants, facilitators, and support staff come together for the first group exchange. Arnaud presents the retreat and the program. For nearly 2 hours, we alternate between group discussions, detailed explanations, answering questions, and a simple ice-breaking exercise. This initial phase is crucial: everyone should feel in a safe space, without fear of judgment from others and as comfortable as possible.
Without revealing anything private, let's talk about our guests. Among them, for example, is an introverted man who has been through tragic events. A hypersensitive woman, struggling with persistent depression, looking for new therapeutic avenues, or even a regular in psychedelic retreats.
Getting into specifics
Our 3 facilitators then venture into one-on-one exchanges to address each person's specific issues confidentially and discuss dosing. Indeed, each individual chooses the amount of psilocybin truffles they wish to ingest. Therefore, we inform and advise them without imposing anything. This way, they are active in their psychedelic process and feel more confident about what comes next.
A breath of lightness
After these introspective moments, we share a meal and enjoy a long live music session led by Juan and Costanza, our English and Spanish-speaking facilitators. The weather is fantastic, and in June, the sun sets very late in the Netherlands.
The evening concludes with a mix of bossa nova tunes and readings of texts in French and English by two of our participants. Some make temporary friendships with the residence's cat, while others begin to engage in deep conversations, already reshaping the world.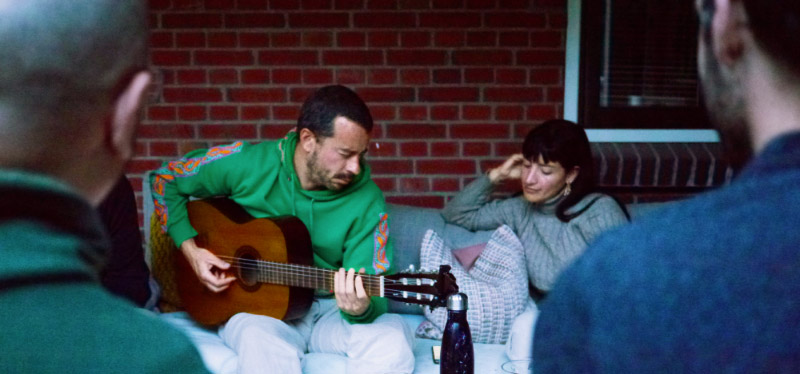 Second day, the big day
Everyone wakes up early for a dreamy, silent walk in the woods with Arnaud. Our nature enthusiast feels right at home and gladly follows the sounds of the forest!
We then have a hearty breakfast, as the day is going to be full of emotions. Around 9 a.m., everyone gathers in the ceremony room for an intense breathwork exercise aimed at relaxing the minds. The morning ends with a group discussion. No one is apprehensive; everyone is excited about the upcoming ceremony.
To maximize the powers of psilocybin, the participants refrain from having lunch and are invited to rest for a few minutes before the ceremony begins.
Encounter with Psilocybin
At 1 p.m., the ritual commences. We invite our participants to enter the grand hall with music playing in the background. Arnaud and Juan explain how to grind their psilocybin truffles and make their infusion. Everything is done in a very respectful, meaningful, and focused silence.
One by one, they leave the room for a purification ritual with Constanza. The atmosphere is studious and mystical. Once in the ceremony room, we serve them their infusion, and the journey begins.
A very intimate experience
Each psychedelic journey is unique. Each experience is personal and should remain that way. There are different levels of intensity, different manifestations, inner or outer phenomena. We prefer to leave the full ownership of their stories to our participants. Some see themselves transformed into reptiles, others experience cascading emotions or suppressed anger resurfacing from their unconscious. Some might not have a particularly impressive trip but still experience a noticeable shift in their mindset.
The experience lasts almost 6 hours. Towards the end, it has become a tradition for us to bring a tray of sweet treats, which provides great comfort for the guests. Their emotions, intensified by the psilocybin, make this small gesture a truly delightful moment. Seeing a 50-year-old man cry over a tray of sweets is actually quite touching!
Returning to life
After the ceremony, everyone is still immersed in profound emotions, including the facilitators. What just happened is so powerful, so indescribable, that even without consuming psilocybin, one is deeply moved (guaranteed!).
Yet, even though each person is lost in the remnants of intense introspection, something has changed. The troubled man mentioned earlier comes out with a serene face, teary eyes, and a strong desire to connect with others. Only a few hours ago, he was the most introverted participant. He didn't experience hallucinations but had a fireworks display of emotions for hours. Everything that was blocked came rushing out.
A harmonious meal
After a dip in the pool for those who wish to play in the water like kids, dinner finally arrives! For those who skipped lunch, it is greeted with enthusiasm. During the evening, conversations flow freely. We talk about movies, personal development, rugby, unicorns, music, and, of course, psychedelics!
Unexpectedly, the small night concert turns into an impromptu karaoke session. The atmosphere is very familiar and relaxed. It almost feels like a summer camp. The facilitators seem much more tired than the participants, who postpone going to bed to soak up these rare moments even more.
Third day, time to leave
Everyone wakes up at their own pace, between 7 and 9 a.m. We already know that the moment of departure will be strange. Something inexplicable has been forged, a total cohesion in an instant. Without expectations, without calculation.
After the culinary formalities, the guests choose between a walk in the forest or a gentle yoga class. After these activities, we all share one last discussion circle to reflect on the past 2 days. It is an emotional moment during which some express their enthusiasm and gratitude towards the facilitators, while others may share certain disappointments or critiques. These points will be discussed as a team to decide on potential improvements.
The facilitators then have one-on-one sessions with their guests. They discuss the psychedelic experience and how to navigate the return home. What to expect? What to do? How to make the most of what has just happened?
After the midday meal, it's time to pack up and head to the train station or the Amsterdam airport. We all gather in the garden to say goodbye, sharing a touching and warm moment.
Arnaud, with a beaming smile, is delighted with this retreat. He thanks each person with a glance. One member of our team sheds tears of emotion, the facilitators are happy, and the participants hug us spontaneously. It's not so common to embrace someone you barely knew before!
No one promises to see each other again, as that's the freedom of a retreat: to share a powerful moment with strangers, to release the pressure without taking on new social obligations. It's an authentic freedom.